In 2017, the Department of Religious Studies established The Mohini Jain Presidential Chair in Jain Studies with a generous gift from Mrs. Mohini Jain. The holder of the Chair will be a scholar of the Jain tradition, who will help us build a robust, interdisciplinary and innovative program in the study of Indian Religions at UC Davis. 
In Fall 2020, Lynna Dhanani, joined the Department's faculty as the specialist in Jain Studies. She began teaching courses on Jainism starting Winter 2021.
You can learn more about Mrs. Mohini Jain's gift here 
An article about Mrs. Mohini Jain's gift appeared in The California Aggie
The University celebrated Mrs. Mohini Jain's gift of 1.5 million dollars on February 21st, 2017. To mark the occasion, Professor Laurie Patton, President of Middlebury College, and an eminent scholar of Indian Religions delivered a delightful and thought provoking talk on Dialogue in the Indian Religious traditions. 
This generous gift will allow the department to build a Jain Studies curriculum, host academic lectures, conferences and residencies, and support research on Jainism at both the undergraduate and graduate level. 
The department launched its Jain Studies curriculum in Winter 2021 with Lynna Dhanani's "Introduction to Jainism' (RST31) and 'Images of Jain Devotion in Text and Art' (RST 136).
Since Mrs. Mohini Jain's gift in 2017, the department has hosted a number of Jain Studies related events.
 
2019-2020
In the 2019-2020 academic year, we hosted two scholars, Professor Lisa Owen (University of North Texas) and Professor Whitney Kelting (Northeastern University) for week long residencies in Fall 2019 and Winter 2020 respectively. As part of their residencies, they guest lectured in courses, ran pedagogy workshops, met with undergraduate and graduate students and delivered public lectures.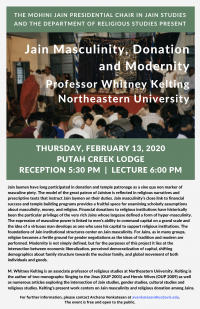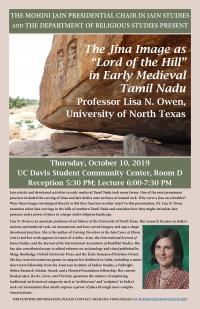 2018
In 2018, we hosted lectures by three prominent scholars of Jainism.
Professor Phyllis Granoff (Yale University) spoke on Jain notions of charity

Professor Peter Flugel (SOAS, London) on Jain notions of renunciation.

Professor John Cort (Denison University) on Jain images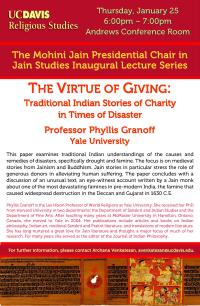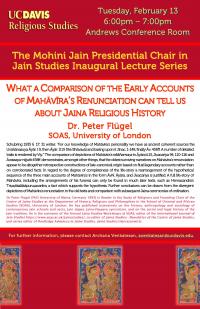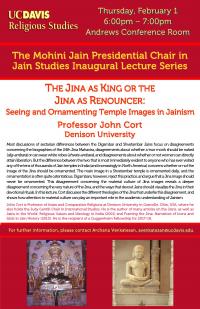 2017
Professor Laurie Patton delivered the inaugural lecture to commemorate Mrs. Mohini Jain's gift