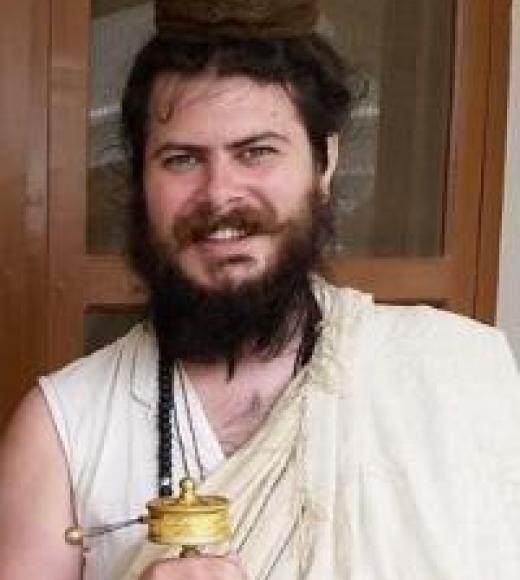 Position Title

Graduate Student in the Study of Religion

Teaching Assistant in Religious Studies
Bio
Education and Degree(s):
B.A. Sociocultural Anthropology, University of California, Davis
Research Interest(s):
Indo-Tibetan Buddhism
Nātha sampradāya and Siddha cults
Hagiography and Life Writing
Tantra, Transgression and Antinomianism
Performance and Embodiment
Teaching Experience:
Religious Studies RST 1F: Religion Today
Religious Studies RST 30: South Asian Religions
Religious Studies RST 170: Buddhism
Human Rights HMR 1: Human Rights, Human Wrongs
Human Rights HMR 134: Human Rights
Human Rights HMR 131: Genocide
Profile:
Westin Harris studied South Asian Art History at the National Museum Institute in New Delhi, India; Buddhist Studies at Delhi University, India; and ultimately received his undergraduate degree in sociocultural anthropology from the University of California, Davis. As a scholar and a practitioner of Vajrayana (tantric) Buddhism, Westin has returned to the University of California to pursue his PhD in the study of religion.
Westin's dissertation research combines textual, art historical, and field-site methodologies to examine the life stories of the enigmatic tantric Buddhist adept known as Virūpa. As the attested author of the first haṭhayoga text, the c. 11th century Amṛtasiddhi, Virūpa is revered in tantric Buddhist, Nātha, and more orthodox Hindu traditions alike. Analyzing Virūpa's life stories and artistic representations in Tibetan and Sanskrit, tantric Buddhist and Nātha sources from South India, Nepal and Tibet, Westin argues that hagiography is valuable historiography regardless of the relative historicity of any hagiographical narrative. More specifically, Westin holds that Virūpa's hagiographies provide a rare historical window into the evolution and reformulation of Buddhist practices and ascetic communities at a critical period when Buddhism was previously thought to be "dying" in most of South Asia. By analyzing the intersections between Indo-Tibetan (tantric) Buddhism, the Nāth order of yogīs, and haṭhayoga, Westin's research has broad implications across a number of disciplines, including Religious Studies, Buddhist Studies, Yoga Studies, Art/History, and more. 

In addition to his academic work, Westin is an avid translator of Tibetan and Sanskrit. He has translated for numerous Buddhist teachers and organizations and is currently working on translating a collection of commentaries related to the tantric Buddhist meditation practice of "severance" or "chöd" (Tibetan. gcod).
Languages:
Classical Tibetan
Colloquial Tibetan
Classical Sanskrit
Hindi
English (native)
Selected Publications:
"Eremitic Engagement: The Religious Body Politic of Chatral Sangye Dorje." In Beacons of Dharma, edited by Christopher Miller, Jeffery Long, and Michael Reading. Plymouth: Lexington Books, forthcoming 2019.
"The Vajra Song That Is a Heart-Summary of the Sacred Doctrine of the Pacification of Suffering: The Siddha Padampa Sangye's Explanation to the Lord of Yogis Milarepa." In Modern Tantric Buddhism: Embodiment and Authenticity in Dharma Practice, by Lama Justin von Bujdoss, 231-5. Berkeley: North Atlantic Books, 2019
Honors and Awards:
Khyentse Foundation, Translation Studies Scholarship (2019-20)
Khyentse Foundation, Translation Studies Scholarship (2018-19)
Khyentse Foundation, Translation Studies Scholarship (2017-18)
Kathmandu University Center for Buddhist Studies, Rangjung Yeshe Institute, Research Affiliate (2017-18)
Inter-Campus Exchange Scholar, Buddhist Studies/East Asian Languages & Cultures, UC Berkeley (2016-17)
Study of Religion Fellowship (2015-16)