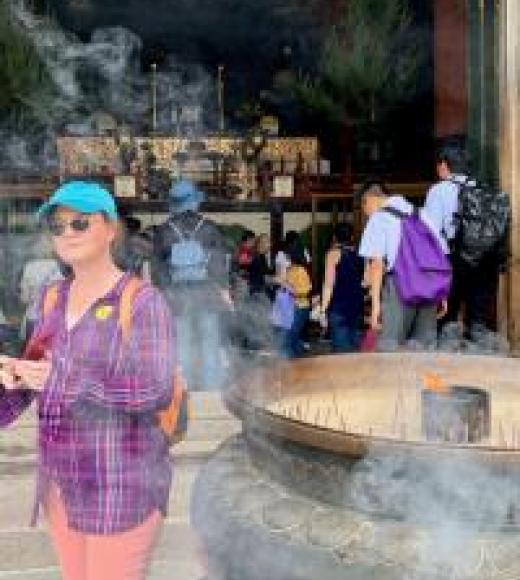 Position Title

Continuing Lecturer in Religious Studies
Office Hours
Fridays at 8:00 am. Please see the course syllabus for the Zoom link.
Bio
Education and Degree(s):
B.A. Religious Studies and Linguistics, University of California, Davis
M.A. Linguistics, University of California, Davis
Ph.D. Christian Spirituality, Graduate Theological Union, Berkeley
Research Interest(s):
History of Christianity
Religion and Language
Mysticism
Somatic Piety Practices (e.g. Fasting)
Course(s) Taught:
CLA 30 (Greek & Latin Elements in English Vocabulary)
HIS 111A (Ancient History: Near East)
HIS 130C (Christianity and Culture in Europe 1600-1850)
LIN 1 (Introduction to Linguistics)
RST 1 (Survey of Religion)
RST 1A (Pilgrimage)
RST 1C (Sacrifice)
RST 1F (Contemporary Religion)
RST 1G (Myth, Ritual and Symbol)
RST 12 (The Emergence of Judaism, Christianity, and Islam)
RST 21 (Hebrew Scriptures)
RST 23 (Introduction to Judaism)
RST 40 (New Testament)
RST 42 (Religion and Science Fiction)
RST 45 (Christianity)
RST 60 (Introduction to Islam)
RST 80 (Religion, Gender, Sexuality)
RST 100 (Issues and Methods)
RST 102 (Christian Origins)
RST 103 (Medieval and Byzantine Christianity)
RST 104 (Christianity 1450-1700)
RST 115 (Mysticism)
RST 122 ([Hebrew] Biblical Texts)
RST 130 (African Indigenous and African Diasporic Religions)
RST 135 (The Bible and Film)
RST 140 (Christian Theology)
RST 141A (New Testament Lit.—Synoptic Gospels)
RST 141B (New Testament Lit.—John)
RST 141C (New Testament Lit.—Paul)
RST 143 (New Testament Apocrypha)
RST 144 (History of the Bible)
RST 150 (Religious Ethics)
Druids: Religion, Wisdom, and Violence (Freshman Seminar)
The Rest of the Old Testament?: The Deuterocanonical Books of the Christian Canon (Freshman Seminar)
Searching for Shakespeare's Soul: Codes, Conspiracy, and Catholicism
 (Freshman Seminar)
MURALS (Mentorships for Undergraduate Research in Agriculture, Letters, and Science)
Selected Publications:
A Companion to Marguerite Porete and The Mirror of Simple Souls, edited by Robert Stauffer and Wendy R. Terry. (Companions to the Christian Tradition, 77) Leiden; Boston: Brill, 2017.
Seeing Marguerite in the Mirror: A Linguistic Analysis of Porete's Mirror of Simple Souls, by Wendy Rachele Terry. (Studies in Spirituality Supplements, 21). Leuven, Belgium: Peeters Publishers, 2011.
Teaching Experience:
In addition to her teaching at UCD, Dr. Terry has also taught Religious Studies courses at California State University, Sacramento, and Religious Studies, Critical Thinking and Mathematics courses in voluntary college-level programs at Solano and San Quentin State Prisons.