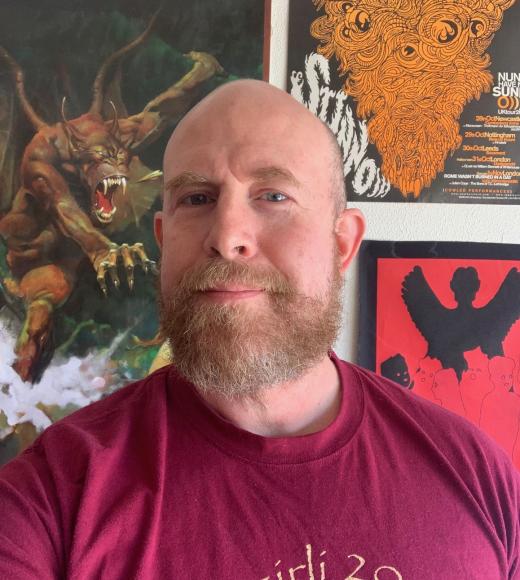 Position Title

Professor of Religious Studies
Bio
Seth L. Sanders studies the alchemy of language, religion, and politics in the ancient Near East. He has edited or coedited four books: Margins of Writing, Origins of Cultures; Cuneiform in Canaan; Ancient Jewish Sciences; and How to Build a Sacred Text in the Ancient Near East and is author of The Invention of Hebrew and From Adapa to Enoch. He is working on a book on Language and the Presence of God in Ancient Israel, which will provide a new look at the relationship between ancient West Semitic linguistic genres and religious experience.
I was inspired to study religion in 7th grade when I accidentally heard the great Sanskritist Wendy Doniger speak about "Dreams, Illusion, and Other Realities." She talked about how myths can draw you into their metaphysics by example: their telling makes you grapple with what it would be like if their ideas were true. This inspired my approach, using the tools of language, from epigraphy to linguistics, to discover the powerful ideas embedded in the very way ancient stories are told.
I studied Hebrew Bible and Semitic languages at Harvard, Hebrew University, and Johns Hopkins, pursuing the question of how writing helped create languages and identities in the ancient Levant. This quest has involved a series of collaborative projects and resulting books. These include Cuneiform in Canaan, the first complete edition of Babylonian texts from Israel, Margins of Writing, Origins of Cultures: New Approaches to Reading and Writing in the Ancient Near East, and Ancient Jewish Sciences and the History of Knowledge in Second Temple Literature. A new project, How to Build a Sacred Text in the Ancient Near East, will bring together experts on 2000 years of literature, from Egypt, Babylon, Canaan and Israel to explore the key ways that sacred narratives and laws were built.
My first book, The Invention of Hebrew (winner of the Frank Moore Cross award), used epigraphic evidence to understand how biblical texts worked as political communication. It argued that the new genres of Hebrew inscriptions and biblical literature were designed to address their audience in a new way–as members of a public, a community called into being through the circulation of texts. It applied questions of social theory, from scholars like Benedict Anderson and Jürgen Habermas, to the role of communication and media in creating political order and belonging. It suggests that publics already came into being in ancient times, independent of modern media and contemporary nationalism.
My recent book, From Adapa to Enoch: Scribal Culture and Religious Vision in Judea and Babylonia (in press with Mohr Siebeck) is the first major comparative study of ancient Babylonian, Aramaic and Hebrew scholarship, designed to explain how early Jewish literary culture diverged from its Israelite legacy. Did the rise of Jewish literature represent a radical break from the intellectual culture of the Bible? What did it learn from older, more powerful contemporary societies like Mesopotamia?
In addition to Language and the Presence of God in Ancient Israel, a second long-running project, supported by grants from the Guggenheim foundation and the NEH, reconsiders how the old problem of the Bible's sources can provide a new perspective on ancient Hebrew literature. The Pentateuch reads not like any other work of ancient Near Eastern literature, but several blended together, because it combines multiple Hebrew versions of the same story—but why? Why We Can't Read the Torah: The Form of the Pentateuch and the History of Ancient Hebrew Literature illuminates why the Pentateuch's structure is so strange, providing a theory of how ancient Hebrew literary values changed, leading to the dialectic that created this enigmatic paradigm of all books.
Selected Publications:
Books
From Adapa to Enoch: Scribal Culture and Religious Vision in Judea and Babylonia.Texts and Studies in Ancient Judaism series. Tübingen: Mohr Siebeck. Submitted for Fall 2015 publication.
Co-editor, with Jonathan Ben-Dov. Ancient Jewish Sciences and the History of Knowledge in the Second Temple Period. Open-access edition: Institute for the Study of the Ancient World http://dlib.nyu.edu/awdl/isaw/ancient-jewish-sciences/Print edition: New York: NYU Press, 2014.
The Invention of Hebrew. University of Illinois, 2009. [Winner, Frank Moore Cross Award from the American Schools of Oriental Research 2010; finalist, Jewish National Book Award 2009]
Editor, Margins of Writing, Origins of Cultures: New Approaches to Writing and Reading in the Ancient Near East. Oriental Institute Symposia 2. Chicago: Oriental Institute Press, 2005. Corrected second printing 2007. PDF available at: http://oi.uchicago.edu/research/pubs/catalog/ois/ois2.html
Associate editor, with Wayne Horowitz and Takayoshi Oshima. Cuneiform in Canaan: Cuneiform Sources from the Land of Israel in Ancient Times. Jerusalem: Israel Exploration Society, 2006. Expanded 2nd edition planned with Eisenbrauns.
Selected Articles
"What If There Aren't Any Empirical Models for Pentateuchal Criticism?" in Brian Schmidt, ed. Contextualizing Israel's Sacred Writings: Ancient Literacy, Orality, and Literary Production. Ancient Israel and Its Literature 22. Atlanta: SBL Press, 2015: 281–304.
"When the Personal Became Political: An Onomastic Perspective on The Rise of Yahwism," Hebrew Bible and Ancient Israel 4 (2015): 59-86.
 "The Appetites of the Dead: West Semitic Linguistic and Ritual Aspects of the Kutamuwa Stele from Zincirli," Bulletin of the American Schools of Oriental Research 369 (2013): 35–55.
 "Naming the Dead: Monumental Writing and Mortuary Politics in the Iron Age Levant," Maarav 19 (2012): 1-21.
"The First Tour of Hell," Journal of Ancient Near Eastern Religions 9 (2009): 151-170.
"What was the Alphabet For? The Rise of Written Vernaculars and the Making of Israelite National Literature," Maarav 11 (2004): 25-56.
"Performative Utterances and Divine Language in Ugaritic," Journal of Near Eastern Studies 63 (2004): 161-81.
Internet Writing/Public Scholarship
"Noah-The Movie," Religion in the News, September 2014, 30-32. https://www.academia.edu/8509263/Noah--the_Movie.
"Elie Wisel Distorts Bible in Controversial 'Child Sacrifice' Ad," Religion Dispatches, August 2014 http://bit.ly/1vCwcpG.
"A Pagan 'Prophet Like Moses:' Balaam and the Problem of Other People's Revelation," TheTorah.com: A Historical and Contextual Approach, July  2014 http://thetorah.com/balaam-and-the-problem-of-other-peoples-revelation/
"Jesus' Language More Complicated Than Experts Claim," Religion Dispatches, June 2014 http://bit.ly/1rSSEcc.
Recent and Upcoming Talks
"Bondage as Liberation: The Political Theology of Late Iron Age Law" in "Assyria and the Levant in the Iron Age" panel, joint American Schools of Oriental Research/Society of Biblical Literature panel, November 2015.
"Hebrew and Aramaic in the Hands of Ancient Philologists, 900-100 bce," The Language of the Past and the Future of Ancient Studies Symposium, University of Pennsylvania Center for Ancient Studies, October 2015.
"Why Prophecy Became a Genre: First Isaiah as an Instance of Ancient Near Eastern Text-Building," The Formation of the Book of Isaiah in its Ancient Near Eastern Contexts: International Conference, University of Zurich, September 2015.
"Vassal Treaties and God's Empty Throne," Judea, Its Neighbors, and the Empires in the Seventh Century BCE colloquium, University of Haifa Bible Department, May 2015.
Honors and Awards:
Guggenheim Fellowship, 2015-16
National Endowment for the Humanities Fellowship, 2015-16
NYU Institute for the Study of the Ancient World, Visiting Research Fellowship 2010-11
National Endowment for the Humanities Fellowship, Albright Institute of Archaeological Research, 2006-7
Urbach Fellowship, Memorial Foundation for Jewish Culture, 2000-2001