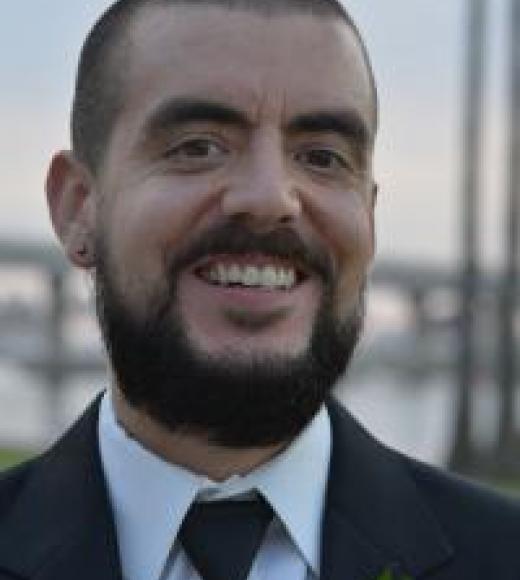 Position Title

Graduate Student in the Study of Religion; Teaching Assistant in Religious Studies
Bio
Education and Degree(s):
M.A., Social Sciences, The University of Chicago
B.A., Anthropology, The University of California, Berkeley
Research Interest(s):
Ritual, myth, and language studies
Language ideologies and indigenous theories of semiosis
Anthropology of religion, ethics, and knowledge
Tantric Śaivism (mantramārga): non-Saiddhāntika Tantric Śaiva goddess cults and their (dis)continuities with various intellectual antecedents and interlocutors
Yoga: pre-classical, Patañjala, tantric, haṭha, medieval, and modern postural
Vedic, Tantric, and Hindu ritual: history, theory, and practice

Book Reviews:
Profile:
Brian Campbell earned a bachelor's degree in Anthropology at the University of California, Berkeley where he developed an interest in social theory, ritual and myth studies, semiotics, and the boundaries and interrelationships between the classic anthropological categories of magic, religion, and science. His undergraduate research focused on the historical and modern relationships and interconnections between Brāhmin priests and world-renouncing saṃnyāsis with respect to ritual agency and purity in Hindu society.
Left with unanswered questions concerning the role of tantra in Indian religions he decided to pursue graduate training at the University of Chicago where he joined an interdisciplinary master's program which allowed him to further develop his understanding of the academic study of religion, and of tantra, in the Divinity School and also study social theory, semiotics, and ritual theory in the Anthropology department. His graduate research explored questions of, and connections between, semiotic embodiment, language ideology, and ritual theory through analyzing how a well known tantric ritual is "dynamically figured" and reflexive of larger beliefs about what language is, and what it can do.
At U.C. Davis his Ph.D. research interests are centered around the seminal role of language in tantra and yoga with the desire to explore both historical and intellectual genealogies, as well as contemporary transformations and instantiations of their religious ideologies and practices. In terms of his research in tantra, he is specifically interested in the non-Saiddhāntika Tantric Śaiva goddess cults of the early tantric Vidyāpiṭha and later, connected and reformulated, Trika-Kaula traditions with a special emphasis in language, ritual, and cosmogony. In terms of his research in yoga, he is interested in diachronically exploring its ethical and linguistic dimensions and aims to produce more comprehensive understandings of what he sees as binding yoga's variant discourses and heterogeneous practices together.
Honors and Awards:
First Year Provost Fellowship, University of California, Davis (2018)
Half-Tuition Scholarship, The University of Chicago (2015)
Berkeley Undergraduate Scholarship, graduation with high honors, highest distinction in scholarship (summa cum laude), and the Anthropology departmental award for the "Most Outstanding Graduating Senior" University of California, Berkeley (2014)